For more than 10 years, Belarusholiday DMC has been an acknowledged leader in Destination Management Company (DMC) services in Republic of Belarus. Through the years, we have been the preferred DMC partner of tour operators and travel agents worldwide.
Our depth of local expertise, vast global reach, strong relationships with key players of the global travel industry and innovative B2B systems have facilitated the offering of a wide range of high-quality products and services as well as seamless operational compatibilities with partners.
From visa support and transport services to a wide selection of hotel accommodations, an exciting range of unique tours and excursions, and pre-decided to tailor-made packages, we take care of the every need and desire of visitors within our destinations. We are a reliable partner in creating exceptional destination experiences for Groups or FIT, VIP or Business Traveller.
What you will need most of all in Belarus.
You probably know very little about Belarus. If you want to know the country better, you should start with the people. Belarusians, contrary to popular belief, are very different from the people of neighboring countries. They are not like other Slavs. They are quiet, civilized, non-conflicting and good-natured. Most of all you need a sense of interest. If you have an interest, everything else will be solved by itself.
You can rely on us everytime.
However, you are in the safest country in the world! The least-known fact about Belarus, it is her safety. Even if you say that it is "the safest country in the world," it will be not an exaggeration. If you think about that from the point of a person who comes to visit another country, one of the most basic needs is a sense of security, you will not experience difficulties in this regard. Belarus is so safe that you will not have much need even in our support on this issue.
Are you a resolute person? The best way to check it is to explore our hotel offers
Saying briefly: we provide for you all the options of accomodation in Belarus. With all the hotels we have a partnership and contractual relations. This means that we can provide you with a choice of accomodation of your dream (and even more). Before we present you with options, consider this: Will you have enough time to evaluate so many proposals? Even if no, there is nothing to worry about. Leave it to us, and we can offer you the best choice.
For us all the clients are VIP. But if you want, your apartment can also be of VIP level.
Our main distinguishing feature is our approach to local residents and visitors coming to Belarus. We Show a special approach to everyone. It does not matter whether you are our client or neighbor, you are the most important person for us. If you want to feel like VIPs, of course it's possible, we can provide you with special VIP-apartments.
Our daily tours last one day, but actually stay with you for all your life.
In Minsk and in other parts of Belarus so many new surprises and different things wait for you, so that when you realize it, you will have to use your time effectively. Therefore, we believe that our responsibility is to provide you with the best daily tours. Tours should not be seen as something not special, a tour can last one day, but the memory about it, about people, about feasts can last a lifetime.
If you do not have big problems with parting, we want to see you off.
We are always with you - from the moment you step on the Belarusian land, and to the ending point of your departure, at all the times when you may need our help. We meet you at the airport and transfer to your hotel, and only after this we will go home. We will wait for your message about the time of your departure. If you wish, we will accompany you to the door of the aircraft. If you do not like touching scenes, we say you goodbye at the gate of the airport. The choice is yours!
We will support you 24/7
We provide you the service on behalf of the company «Belarus Holiday» with a team of professionals. Our expertise does not end at a certain hour. Phones of all our staff are available 24 hours a day. In addition, you can always call our line to communicate with customers and ask us questions. If you call to tell us "thank you", our answer is known in advance, "thanks to you!"
We work by using all its capabilities, in order to improve the quality of services. To ask questions, express their views and suggestions about our services, call us at 7/24.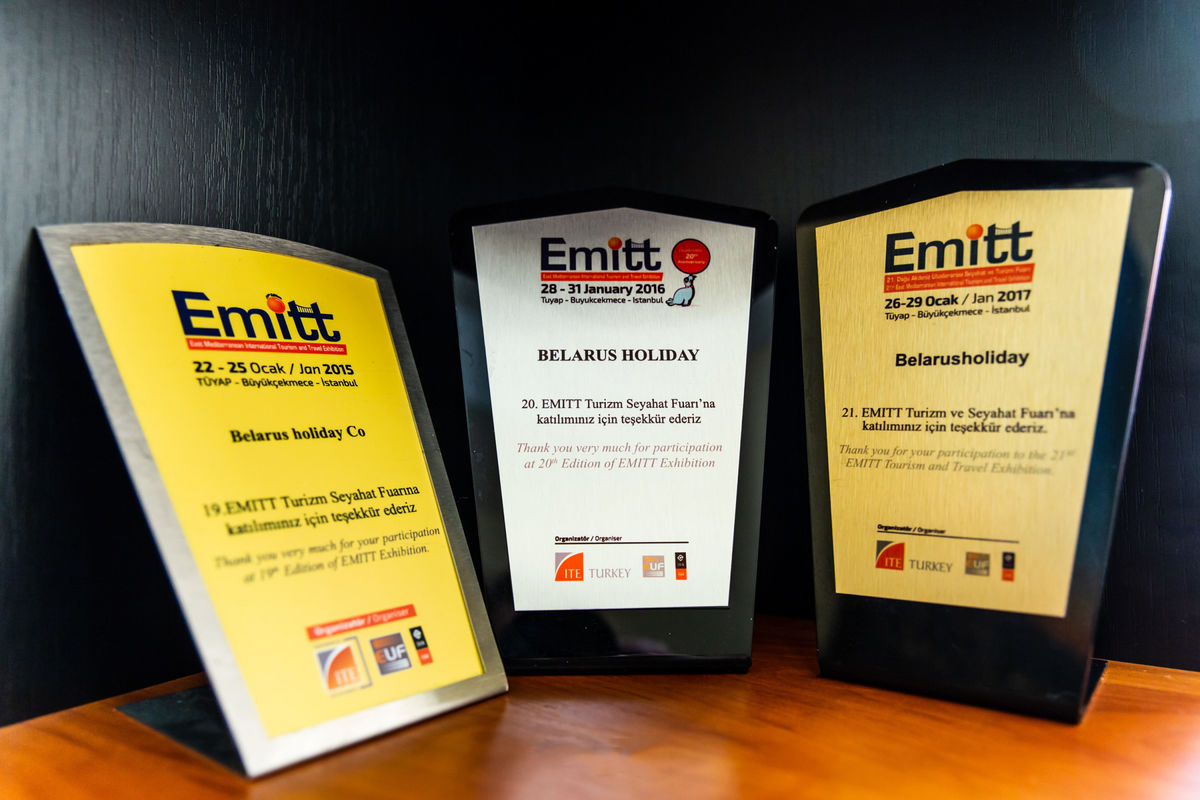 Our concept
Contribute to the fact that Belarus became better acquainted with the world, and especially with our country Turkey, and that Turkish citizens got to know the Slavs, particularly the Belarusian people, and people belonging to different cultures understand each other better and to disappear prejudice ...
Our Mission
The mission of our organization - is to closely monitor the developing world tourism and achieve the greatest success in providing our guests is always a good service with our experienced and reliable team.
Our services
Booking of hotels, with broad choices
Booking of VIP-apartments
Meeting at the airport
Transfer airport-hotel and hotel-airport
VIP-service and service for groups
Car Rental
Daily tours
Tour guide service